Today, all successful businesses are run because of their huge data collection. Digital transformation is a way to deliver value to customers through digital technology. Digital transformation is important for all types of businesses to remain relevant and competitive as the world grows in the digital era.
Still, many business leaders don't know what digital transformation is? Do we require more experts to help us to create the framework for digital transformation? Will our business strategy also be changed? Or Is it worth the time?
Because the term "digital transformation" has been used so widely, some leaders thought it difficult to adopt. But the reality is that all successful businesses adopt digital transformation and they see massive results.
This article aims to answer all the questions that are the most common about digital transformation from strategy to trends.
How does COVID-19 Impact Digital Transformation?
We've seen the COVID crisis from 2020 and that fully changed the viewpoint of companies towards digital transformation.
Digital technology plays a vital role in the businesses evolving with the market trends and continually increases the value to the customers. Today's organisations have a different road to reach digital transformation. One of the hardest questions is how to reach from the vision to execution.
At the time of the COVID-19 pandemic, it created an urgency among organisations to reach their digital transformation goals. Check how COVID-19 is kicking digital transformation into overdrive? In this, the leaders are facing challenges like budgeting, culture change, and finding experts. Let's dig into the deep guide to digital transformation.
What is Digital Transformation?
In the past years, companies have always dealt with the customer's demands. But because of the COVID-19 pandemic, how modern society functions is changed.
Image Source: Pipartners
In the current time if the businesses do not transform themselves then it could be difficult to survive. Adapting to the situation is also necessary for the successful delivery of products and services to the customers.
There are many observations by industry experts that taking an initiative for transformation may lack an accurate understanding and approach to digital transformation. To execute this successfully the organisation needs to avoid pitfalls.
A senior executive of a global brand quoted by Harvard business review is saying:
"We have lots of committees and initiatives on digital transformation, we are fully working towards digital transformation…but none can explain to me what digital transformation exactly means"
The concept of digital transformation is not that new for all organisations but the understanding of what ultimately drives an organisation is still not understood.
Look at Some Definitions of Digital Transformation
Digital transformation looks different to companies so we can't pinpoint a fixed definition. It's not an organisational and operational change but a cultural change among the departments as well. It requires that companies continuously change their business practices to seek the best solutions.
But in general terms, it's an integration of digital technology in all areas of a business resulting in how the business operates and how they deliver value to the customers.
The term digital transformation has an impact on other organisations as well, such as government organisations, public sectors, and different businesses which are involved in tackling the challenges. These organisations also take advantage of new technology to aid their process.
Benefits of Digital Transformation to a Business
There may be multiple reasons for a business to adopt digital transformation but the most common reason to take digital transformation is that it's a need for an hour.
There's a difference in the way of communication between businesses and customers due to the rise of social media platforms and web-based solutions. Now the customers directly connect to their favourite brand online.
Digital responses change the customer experiences about the business availability and responses. Digital solutions are helping businesses to make their products, and services the best for their customers. Interaction and communication are also crucial to a better understanding of customer needs
As we know, there are many key benefits of digital transformation. Here some of them are we discussed below:
Enhanced User Experience
User experience is an important factor for a successful firm. Providing better services that no one is providing distinguishes a successful organisation from an unsuccessful one.
It helps in increasing speed and agility in the work. It provides a transformational user experience by digitization. This helps companies to earn more authority, trust and respect from their users.
Meaningful Data Collection
Meaningful data that is collected by the organisation is the most valuable asset. Unified data is easy to use because you can compare structured and unstructured data that initially generate highly personalised and relevant insights. This also provides real-time feedback.
Take a look at an example of data-based insights. Digital methods of marketing are more convenient than traditional or non-digital channels. Digital channels provide real customer data by analysing the real world. By using this data companies can improve their results from marketing campaigns.
Through this meaningful data, the organisation can improve its revenue by focussing on the key areas which are crucial for customers' interest.
Encourage Digital Collaboration Across the Departments
Adapting to a sudden change is difficult for everyone from leaders to entry-level employees. A change on a large scale among all the departments can be an unsettling idea.
Regular, clear, and transparent communication between all the departments where everyone knows their role should be encouraged. This will work only if everyone knows the vision and how it helps in the long run in the company.
With this approach, a sense of unity can be developed between the employees and break down social divides. Strong leadership among the departments is key to successful transformations. This will be a win-win situation for everyone related to the company like stakeholders, higher authorities, and the employees.
Improved Agility Among Organisations
Digital transformation makes organizations more agile to improve speed and improve continuously. The changes in the digital world are so rapid that organisation finds it difficult to respond quickly and because of that, they lose the advantage.
It doesn't matter how well the brand is established if there's a cheaper and better alternative available in the market. Then the customers will choose that. Therefore, not just new startups but the established companies also improve and adapt to the changes in the market.
Increase in the Profits
If the organization reduces the cost then it's easier for them to increase profits. Understanding the flaws in the current processes is key to a successful digital transformation.
Improving transparency in the business, and in the management improves the practices of work that drive revenue.
Better Supply Chain Management
A better supply chain management leads to shortened product life cycles. That's the matter more in the business where the development cost is higher. Higher cost leads to delays in the development of the products. If an organisation did all this virtually, then the time the supply chain takes will be lesser.
The Framework of Digital Transformation
A framework depends upon the challenges and the demands of the organisation. But there are few constant themes among the existing studies that many experts consider to embark on digital transformation.
These digital transformation elements have:
Customer experience
Culture and leadership
Workforce
Operational agility
While each guide has its recommendations, CIOs, and steps. So, you should look at the important points while developing the digital transformation strategy.
What is Digital Transformation Strategy
Digital transformation strategy in general words is a roadmap of methods that you will adopt to transform your business digitally and tackle challenges easily. The most successful digital transformation strategies are those that are well-planned and implemented correctly. A well-planned strategy needs expertise and precision.
A digital transformation strategy should ensure these two points:
The acute focus is the realigning of a business model that focuses on customer experience.
Taking technology initiatives that drive high value and outcome.
Create Successful Digital Transformation Strategies
To implement a strategy successfully an organisation needs to plan a strategy to reach its goal. If they avoid any point then this will lead to frustration, complication, and waste of resources. Once you have a plan, now you know what you have to do to reach your goal.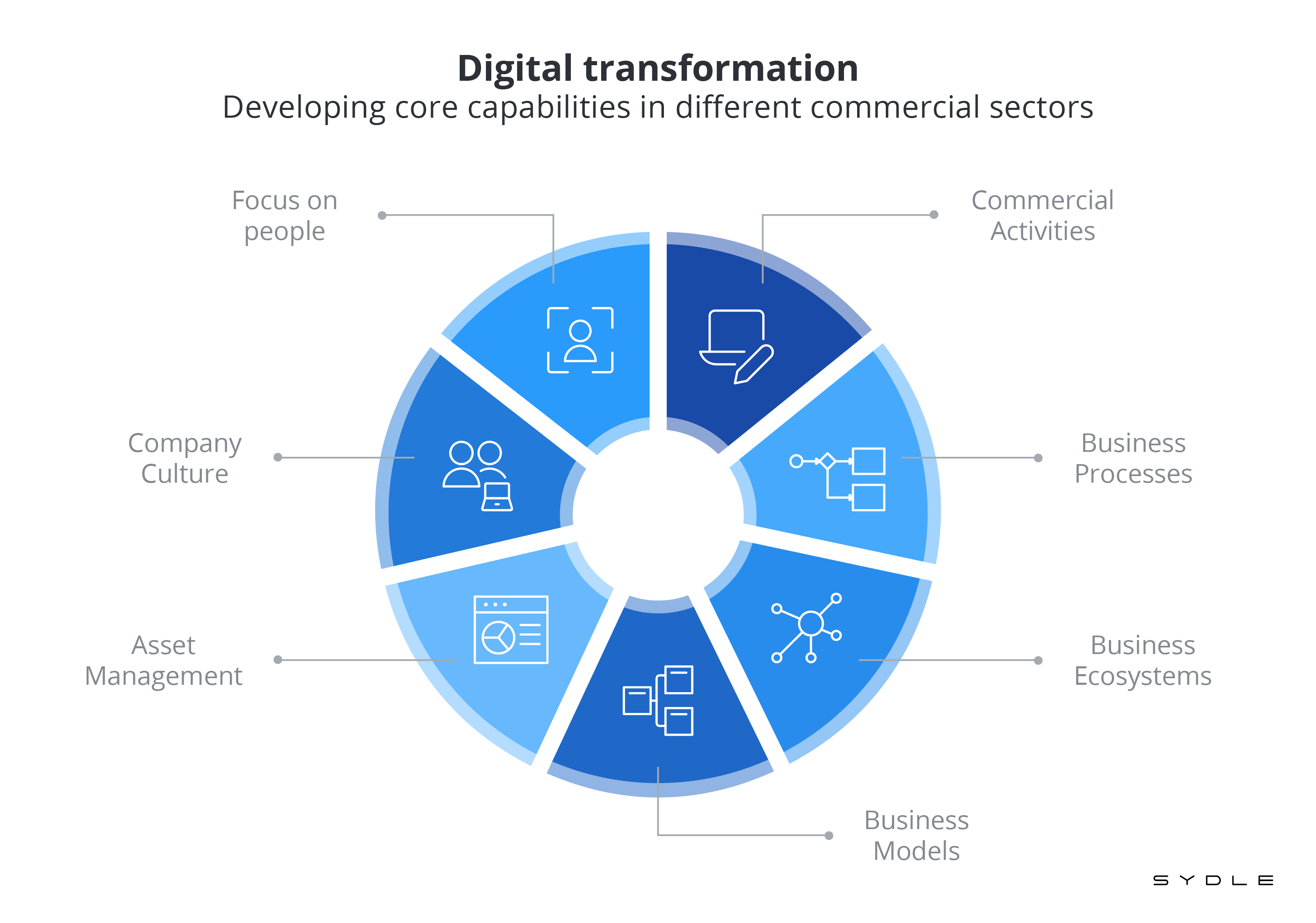 Source: Sydle
Understanding the Vision
Before you start making a plan, you must ensure that all the departments and other people that are connected with organisations are well aware of their tasks and goals.
The enterprises should clarify what they want by implementing digital transformation, especially similar goals for everyone such as customer experience and engagement.
Breakdown The Vision and Objectives
The vision of the organisation must be divided further into specific objectives. In this, you can include results you want from the employees, better communication between the departments, and customer service. The more specifically you divide the goal the better results you will get.
Understand the Current Environment
Understanding the current environment aims to understand the existing situation and challenges that must be overcome to reach the goal; this will give clarity and help in keeping track of things. Through this, it's easy to understand the gaps that can be improved by digital transformation.
Pick a Solution
There are so many tools that are available in the market to use for digital transformation, but modern integration platforms play a crucial role in the transformation of an IT organisation. Not all the integrated tools are the same so the enterprise should review the tools and services available according to their needs.
Setting a Timeline
After doing all the steps from defining the goals, specifying the objectives, and understanding the environment to choosing a path, the next step is to determine how much time you spend on the process of digital transformation.
It's crucial to set a realistic timeline for each process. With this, the enterprise will know the benchmark and the actual results that help to compare the results.
Choose an Integration Platform
Choosing the right integration platform that provides better technology for the processes and provides a better experience to the customers. Choose a centralised integration platform to do things smoothly.
Why It's Essential for Business Growth in 2024?
The pandemic changed the behaviour of customers in interaction with brands, products, and companies. There's a change in the mindset that encourages them to adopt a digital world.
Organisations that provide digital solutions by leveraging data are successful. This digitization brings competitiveness to every industry. Similarly, with global lockdowns, business owners and employees had no choice but to adopt the various technologies for communicating, delivering, and succeeding.
These digital technologies are integrated with the digital transformation that how companies operate and deliver customer experience. This digital transformation will grow at a rapid pace in 2024.
Digital Transformation Trends
Digital transformation is expected to play a bigger role in 2024 in IT circles than ever before. Because of Digital transformation now it's easy for enterprises to understand better efficiency, more productivity, and less operating cost along with other benefits.
The trends that are expected in 2024 will come with challenges and opportunities but a few challenges such as supply chain, and security have seen notable growth that increase the digital transformation perspective more in the coming year.
Top Digital Transformation Trends that will be seen in 2024
Cloud-Based Technology
Cloud-based technology is becoming more popular because of its benefits such as scalability, cost-effectiveness, and ease of use. Many companies moved from their traditional on-premises software to cloud-based solutions.
Companies that are using technology need more security, as the technology improves the threat of hackers will also increase. So to the same, the data needs to be measured for security.
Cloud-based technology has an improved cyber-security feature and with that, you can keep your data safe. By 2024, more businesses will use cloud-based security to save their data.
The Hybrid Work
Hybrid work will become a more common transformation in 2024. This model is rapidly growing because of which the future work will be connected and the expectations of employees will also increase
With the change in the workplace, more companies are forced to adopt this model to increase productivity and retain talented employees. The expectations of employees have evolved more because most work time is spent at their home and that's not a part of their job.
Organisations have to connect digitally more to achieve more productivity and retain productivity.
5G Network
5G is the fastest network because its speed is huge, it takes one millisecond to respond to the command, and the other hand, 4G takes 200 milliseconds. Businesses that depend on the internet could increase their efficiency with the features that are offered by 5G.
5G also comes with features such as better security, wider installation, and higher bandwidth. The faster broadband speed of 5G will improve the more digitally connected future.
Customer Data Platforms
Businesses are not alone on their digital transformation journey, customers are also a part of it. Customers are getting smarter and they share their data by keeping their privacy a priority.
How do businesses use Customer data platforms to integrate the data that will help the business? By 2024, a quarter of organisations will be invested in the CDP for growth and advocacy.
Data Protection and Security
Data protection is a crucial part of digital transformation in 2024. During a pandemic, cybersecurity becomes more important because customers shift to online platforms and most companies started operating online so security is also very important for them.
In 2024, businesses will focus more on security, it will become a need of an organisation. Customers can see higher transparency and safety in the coming years.
Conclusion
Digital transformation also known as digitization that's a business transformation. The organisation aims to provide better work and more convenience for everyone from customers to employees.
In this digital era, innovative way of offering products and services is highly needed. Therefore as a business owner, it is important to go with the flow of the market to sustain the best position in the market.